Activities
Basic Course Activities

Regular Course Activities

ADVANCE Course Activities

BREATHTAKING OBSTACLES

Balance Beam

Hoppy Obstacle

Zig - Zag Climber

Ritzy Steps

China Wall

Tarzan Wall

Notty Rope Climber

Tyre Crossing

INCREDIBLE INFLATABLLE

Bungi Run

Crazy Bull Rider

Trampoline Jumper
Melt-Down
Inflatable Wall

WALKY -TREKKY


THRILLING ADVENTURE

Zipe-line

Enthralling Crossrope

LIFE SKILL TRAINING


Horse Riding

Camel Ride

Bullock-Cart Ride
Tractor Ride

First Aid Training

Rifel Shooting

Camp fire

Best out of waste training

Washing cloths

Utensil washing

Cleaning the Premises/ bed

Snake Bite Training

SENSATIONAL OBSTACLES

Dirty Bar Balance

Camel Balance

Victoria Balance

Army Net

Commando Net


GUSTY-CRUSTY


Arm Wrestling

Kabbaddi

Kho-Kho

Rugby

Football

DARE -U


WATTERY - LOTTERY


BIRD - ANIMAL - DELITE


Peacock Watch

Exotic Birds Handling

Domestic Animal Handling




BREATHTAKING OBSTACLES

Balance Beam

Hoppy Obstacle

Zig - Zag Climber

Ritzy Steps

China Wall

Tarzan Wall

Notty Rope Climber

Tyre Crossing


INCREDIBLE INFLATABLLE


Parachute Riser

Bungi Run

Rock Climber

Sumo Wrestling

Crazy Bull Rider

Zorbo Rolling

Trampoline Jumper
Melt-Down

THRILLING ADVENTURE

Flying Fox

Zipe-line

Burma Bridge Crossing
Enthralling Crossrope

LIFE SKILL TRAINING


Horse Riding

Camel Ride

Bullock-Cart Ride
Tractor Ride

First Aid Training

Rifel Shooting

Camp fire

Best out of waste training

Washing cloths

Utensil washing

Cleaning the Premises/ bed

Snake Bite Training

CPR training

Fire fighting

Animal Bathing & Cleaning

Jungle cooking live

SENSATIONAL OBSTACLES

Dirty Bar Balance

Camel Balance

Victoria Balance

Army Net

Commando Net


COURAGEOUS CLIMBER


Sensational Climbing Wall ( 65 ft.)

Risky Rappelling

WALKY -TREKKY


Short Trek

Long Trek

Night Trek
Night Trail

Ambush Training

DARE -U


WATTERY - LOTTERY


GUSTY-CRUSTY


Arm Wrestling

Kabbaddi

Kho-Kho

Rugby

Football
Taekwondo

Yoga -Meditation

Danpatta

Sword Swing

Lathi-Kathi

Boxing

BIRD - ANIMAL - DELITE


Peacock Watch

Exotic Birds Handling

Domestic Animal Handling




BREATHTAKING OBSTACLES

Balance Beam

Hoppy Obstacle

Zig - Zag Climber

Ritzy Steps

China Wall

Tarzan Wall

Notty Rope Climber

Tyre Crossing


INCREDIBLE INFLATABLLE

Parachute Riser

Bungi Run

Rock Climber

Sumo Wrestling

Crazy Bull Rider

Zorbo Rolling

Trampoline Jumper
Melt-Down

THRILLING ADVENTURE

Zipe-line

Enthralling Crossrope
Flying Fox
Burma Bridge Crossing
River Crossing

LIFE SKILL TRAINING


Horse Riding

Camel Ride

Bullock-Cart Ride
Tractor Ride

First Aid Training

Rifel Shooting

Camp fire

Best out of waste training

Washing cloths

Utensil washing

Cleaning the Premises/ bed

Snake Bite Training

CPR training

Fire fighting

Animal Bathing & Cleaning

Cooking in Jungle
Horse Trailing

Archery

SENSATIONAL OBSTACLES

Dirty Bar Balance

Camel Balance

Victoria Balance

Army Net

Commando Net


COURAGEOUS CLIMBER

Sensational Climbing Wall ( 65 ft.)

Risky Rappelling
Thrill-O-Ladder Climber

Commando Rappling

WALKY -TREKKY


Short Trek

Long Trek

Night Trek
Night Trail

Ambush Training
Day Long Trek

DARE -U


One Minute Game
Walking on Broken Glass Pieces

Piercing the Potato with Straw

Aangare Walk

WATTERY - LOTTERY


GUSTY-CRUSTY


Taekwondo

Yoga -Meditation

Danpatta

Sword Swing

Lathi-Kathi

Boxing
Arm Wrestling

Kabbaddi

Rugby

Football





BIRD - ANIMAL - DELITE


Peacock Watch

Exotic Birds Handling

Domestic Animal Handling



Adventure Activities
Commando training camps are well supervised training camps for children for all age groups, especially conducted during the course of summer vacations. Its an ideal physical training program which keep the kids occupied and helps them cultivate a healthy and fit life style.
Our 21st century children are in acute need to participate in Commando activities, as these kids are slaves to indoor entertainment, t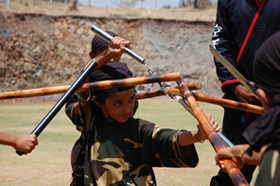 heir lives are ruled by television ,iPads, laptops etc.thus leaving them with very little or zero physical activity. This in turn leads to various health and mental issues.
Commando training camps are traditionally designed keeping in view complete physical and mental well being for our children. Adventure Commando activities planned for the simple sports program include camping training, horse riding, obstacle and hurdle training, camp fire games, trekking, climbing and rappelling. For the commando training program which is a further intensified course for adolescents include the above as well as Rifle Shooting, Snake Bite Training, fire fighting, traffic control, self defense training etc.
Commandos are a perfect way to enhance complete development of children; it prepares and trains children to take up healthy challenges while ensuring their safety and well being. These commando training programs helps our young children in developing a sense of accomplishment and self respect for themselves, and also inculcates a habit of a fit and healthy lifestyle.
Commando Discipline
Commando training camps gives very effectual opportunity for parents who want their children to learn self discipline. Self discipline is fundamental in the overall growth of every child, be it a young child or a teenage. Nowadays gadgets and excessive study pressure has made the children lazy lethargic and home bound; they have become immune to an unhealthy and undisciplined lifestyle.
These adventure commando training camps are the need for today's kids as it helps in teaching kids time management, organizational skills, self discipline, commitment and dedication. It helps in the all round structural development in the vital growing years.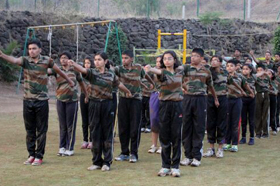 From time to time we are faced with the same question "How does a commando training camps teach discipline?" ANSWER- The structure of our adventure commando training camp is based on strict military training programs where self discipline is mandatory. From learning how to take care of ones belongings, time management and it's accountability they are also grilled to perfection in their mental n physical behavior. This yields our kids to come out of the training program as positive role models for our society.
This adventure commando training residential camp is based on commando and military training programs where not only the physical,mental but overall personality and behavioral improvement is concentrated upon. Our residential Commandos are known to indoctrinate character building, courage, integrity, self discipline, and self improvement in each and every camper.