Commando Discipline
Commando training camps gives very effectual opportunity for parents who want their children to learn self discipline. Self discipline is fundamental in the overall growth of every child, be it a young child or a teenage. Nowadays gadgets and excessive study pressure has made the children lazy lethargic and home bound; they have become immune to an unhealthy and undisciplined lifestyle.
These adventure commando training camps are the need for today's kids as it helps in teaching kids time management, organizational skills, self discipline, commitment and dedication. It helps in the all round structural development in the vital growing years.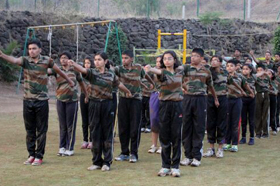 From time to time we are faced with the same question "How does a commando training camps teach discipline?" ANSWER- The structure of our adventure commando training camp is based on strict military training programs where self discipline is mandatory. From learning how to take care of ones belongings, time management and it's accountability they are also grilled to perfection in their mental n physical behavior. This yields our kids to come out of the training program as positive role models for our society.
This adventure commando training residential camp is based on commando and military training programs where not only the physical,mental but overall personality and behavioral improvement is concentrated upon. Our residential Commandos are known to indoctrinate character building, courage, integrity, self discipline, and self improvement in each and every camper.